Neighborhoods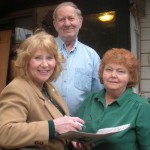 I believe Vancouver's neighborhoods are the heart of the community. Our 68 officially recognized associations cover approximately 95% of the city. Neighborhood associations advocate for livability issues for our diverse population. Whether they involve young people, veterans, elderly, retirees or families, a neighborhood association is made up of volunteers. Volunteers join together to support the social relationships in our community. We must support our neighborhood associations.
I volunteered for more than 35 years with neighborhood associations. I engaged residents and businesses in various enhancements from developing an art sculpture and a new park, to replacing sidewalks and trees.
We have annual picnics, which strengthen the connections between neighbors and engage our youth in a community activity. This promotes stewardship of the neighborhood. I worked very hard to help all residents "age in place" so that our neighborhoods can be their homes for as long as possible.
Neighborhood Association Meetings — My Participation
Meetings of 57 difference neighborhood associations over the last several years
Vancouver Neighborhood Alliance (VNA) meetings
Neighborhood picnics
Neighborhood Associations Council of Clark County (NACCC)
Mediation Workshops
Pre-application construction meetings
Neighborhood Traffic Safety Alliance (NTSA)
Neighborhood Coffees
Since 2017, I invited our neighborhood leaders for coffee. We met in various locations across the city to discuss individual and wholistic issues and to work on finding solutions. This last year changed. We pivoted to virtual coffee gatherings.
Neighborhood Projects — My Involvement
Community Forums for transportation, light rail, park construction, political candidates and land use
Neighborhood Action Plans
Park Development
Numerous Tree Plantings
Sparkle Awards
Graffiti Task Force and Removals
Neighborhood Newsletter Development and Delivery
Graffiti
Graffiti isn't new, but it is a blight on our beautiful city. I am committed to help remove and reduce graffiti in the City. After a rather serious rise in incidents of graffiti on our sidewalks, schools, parks, homes, and businesses, I joined with others to educate ourselves on tagging, gang, and other types of graffiti. We now have codes and guidelines to help residents and businesses. We also have several volunteers and community organizations that have stepped forward to help with the removal of graffiti on private and public walls and fences.
Adopt-A-Park
Our Parks Department staff has been cut due to the Great Recession of 2008 and the current Coronavirus-19 Pandemic. That is why our neighbors adopted our neighborhood park. We pick up litter, sweep the chips back into the play area, restock the dog mitts, wash the picnic tables, and clean the graffiti. This has been our 6-year commitment.
Neighborhood Clean-Ups and Picnics
Every year for more than 30 years, I helped organize neighborhood cleanups and picnics. We have wonderful volunteers that help neighbors haul debris to the dumpsters, direct traffic through the drop off areas, organize the recycling area for useable items, and sort the metals for recycling.

We rake leaves out of the streets and drains and help those who are unable to rake their yards. More volunteers help with bike rodeos, serve ice cream, flip burgers, and paint murals. These are great benefits of a neighborhood association. We work together and play together.
---