Police, Fire and Public Safety
If we are to thrive and move effectively through difficult challenges, then it Is important that we have a safe and secure community. Additionally, potential employers and businesses are more likely to locate in areas offering a good quality of life.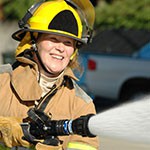 Our city has made great progress honoring our commitment to develop a safe and prepared community. Fire and police must be able to provide strong and responsive service. To accomplish this, we must have adequate staffing, training, and equipment for our first responders.
Our challenge is to reduce government spending while protecting essential services. This is vitally important as our community struggles with job losses and wavering economic conditions. I am committed to public safety. I respect and support the work of our law enforcement, fire and emergency service workers.
Public Safety Groups – My Participation
Community Task Force on Policing
Safe Communities Task Force
Neighbors on Watch (NOW)
Fire Corps
Graffiti Task Force
Public Safety Projects – My Involvement
Community Emergency Response Team (CERT) Training
Vancouver Fire Department Community Academy graduate
4th Plain Corridor Sub Area Plan
Neighbors on Watch (NOW) volunteer – patrols, base, precinct tours
Fire Corps volunteer – smoke alarms and education
Federal Emergency Management Agency (FMEA) – Lobbying for safety training and equipment
Police
I understand our community's concerns regarding Vancouver Police Department's use of force, body cameras, and de-escalation training. These are all issues I am working on through the Community Task Force on Policing. The task of this group is to implement the eighty-four recommendations found in the Police Executive Research Forum report. Our goal is to meet monthly for a minimum of a year to complete the charge, which includes body cameras to be established in the 2021-2022 biennium.

Following the four officer involved shootings in early 2019, the council called on the VPD to consider adopting a body worn camera (BWC) program. Staff is developing the policies and the list of desired features. They will also identify privacy issues and suggest ways to manage them These include: preventing exploitation for entertainment, facial recognition, sexual assault, domestic violence, and consent issues. As an important outcome of those recommendations, I supported the $3 million budget allocation for their implementation.

Additionally, I supported the lease/purchase agreement of the new 44,000 sq ft headquarters at Chkalov Dr. It will house administration, finance, logistics, community volunteer offices and the training units.

For my ongoing education on the important issues facing our officers, I have participated in several DUI night patrol rides and participate as a citizen volunteer for the Neighbors on Watch program. NOW is a volunteer program and an integral part of community-oriented policing.
Fire
I supported the SAFER – Staffing for Adequate Fire & Emergency Response grant to fund thirteen trained firefighters for the front lines for two years and reopening the Burton Fire Station, known as Fire Station 6.

As a Community Emergency Response Team (CERT)volunteer, I was trained in disaster preparedness, fire suppression, basic disaster medical services, light search and rescue, and team organization. I continued with CERT and organized my neighborhood so the residents and businesses are trained in a community-based emergency preparedness plan.

As a neighborhood leader, I also organized the installation of smoke alarms in over one hundred homes in my neighborhood and then worked with the Fire Department to install them in several senior living areas. I continue to volunteer with the Fire Corps participating in a variety of educational and preventative activities.
Public Safety and Property Maintenance
Partnering with residents and business owners to maintain their property builds a safer community.

As a neighborhood leader for nearly three decades, I have been effective in leading neighborhood cleanups creating a holistic partnership of Code Compliance, Waste Management, high school and Scout volunteers and the Vancouver Police Department.

Together we worked to remove gang graffiti, trash piles, abandoned vehicles and secure drug houses. Together we incorporate the citizens' values to strengthen our community. This experience is vital to a healthy and safe community.

The COVID-19 pandemic has impacted the work we have been able to accomplish. Code Compliance is limited to some property maintenance issues. The safety of our community is my upmost priority.
---