Transportation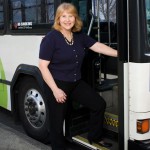 We must plan for the future and protect what we have now. I authored more than $250,000 in community Development Black grants, Neighborhood Action Plan grants and matching grants for sidewalks, traffic calming, bike routes, and traffic management issues. These grants provided safe, accessible and effective travel options for our residents and businesses. I am committed to a Vancouver that is safe for all Vancouverites.
According to community surveys completed in 2017 and 2020, maintaining streets and managing traffic flow were top priorities. The city continues to work on our entire Transportation System Plan. One of our goals for 2021 is to rewrite our entire Plan for priorities to address citizens' concerns.
Prior to Covid-19, most people drove to work, 6% worked from home, and only 3% used transit. Our climate crisis and the impacts of the virus are changing the ways people travel. Approximately 27,000 people ride C-TRAN every day. This could be changing. Digital apps assist with home deliveries for people who are sheltering-in-place. This may affect how we drive, walk, bicycle, shop and receive deliveries in the future.
Transportation Groups – My Participation
C-TRAN – Chair and Board of Directors
Southwest Washington Regional Transportation Council – Chair and Member
Joint Policy Advisory Committee on Transportation - Member
Portland Metro Area Value Pricing Advisory Committee - Member
Neighborhood Traffic Safety Alliance - Member
Transportation Benefit District – Board of Directors
Commission on Street Funding
State of Washington Freight Mobility Strategic Investment Board - Member
Transportation Projects - My Involvement
18th Street Project, I-205 to 136th Ave.
112th Street Safety Corridor
Vancouver's Transportation System Plan – Vancouver Moves (2022)
SR 500 Falk/42nd and Stapleton/54th Safety Improvements Study
Regional Transportation Plan for Clark County
SE 1st Street Improvement Project (164th Ave. to 192nd Ave.)– Lobbying in Washington, DC
NE 137th Ave., 49th St to 4th Plain
NW 32nd Ave Industrial Corridor (Fruit Valley)
Bus Rapid Transit on 4th Plain and Mill Plain Blvds
Transportation Benefit District (TBD)
Vancouver City Council established the Transportation Benefit District in late 2015 and implemented vehicle license fees, now at $40. The fee was one of several recommendations made by a Streets Funding Commission established to find solutions for our streets.

The fees paid in Vancouver, stay in Vancouver and are used for upgrading substandard roads, improving pavement conditions, and improving ADA accessibility, mobility and neighborhood safety. All funds are identified in the annual budget, work plan and project list.

While the state and the city of Vancouver look for alternatives to the licensing fees, we will continue to use the TBD and the annual reporting process to share the road projects and dedicated funding mechanisms.
C-TRAN and Bus Rapid Transit (BRT)
We must keep our core bus system financially healthy and available to everyone to enhance our livability and for those who need the bus for transportation, especially for work or appointments. C-TRAN buses need to continue being frequent and reliable. Our VINE on 4th Plain, and soon to be on Mill Plain, proves that!

A strong transit system is good for our economy. It offers transportation for those with limited resources, reduces the demand for new roadways that are expensive to build, and helps individuals and communities save money which can then be used elsewhere in our local community.

Buses can travel in severe weather, are flexible and can alter their routes when faced with damaged roads, can travel on freeway shoulders during traffic congestion, have an added security and payment factor with a driver present, and are owned and operated through our locally controlled C-TRAN Board of Directors.
I-5 Bridge Replacement Project
I have worked over 21 years on this project. We know that the safety of our residents and businesses, while they travel between the states, is dependent on the bridge structure. I'm pleased to have helped in the renewed work on this project.

I served on the bi-state I-5 Trade and Transportation Task Force 2001-2002. I participated and testified in meetings to stay current with the project direction. I worked with Vancouver Neighborhood Alliance to sponsor three CVTV televised community forums on the light rail issue. In addition, I worked with property and business owners, along with residents, to identify mitigation proposals for air quality, noise, vibration, and traffic.

I support the replacement of the current lift bridges. After exhausting the federal and state funding opportunities, tolls will be needed to pay off the construction portion of the bridge. I support limited tolling to defray the cost of the bridge.

An annual review of the debt would be posted so citizens could see the funding recovery. I also support mitigation for the tolls, especially for the low-income individuals that use the bridge for employment purposes.
Bus Rapid Transit (BRT) vs Light Rail Transit (LRT)
When the original Columbia River Crossing Project was proposed, light rail transit was selected as the Locally Preferred Alternative. We now have a successful BRT system on 4th Plain and a second one being planned for Mill Plain. There will be a time to study, discuss, and decide the possible transit and funding options for this new bridge. I also support each state being responsible for the design and funding for their interchange improvements.

There are many unanswered questions, such as the mitigation measures for the impacted properties and individuals, the cost recovery through user fees, "closed" vs "open" systems that require ticket turnstiles, and the safety enforcement.

To aid efficiency, with our new electronic fare payment system, Hop Fastpass, the two transit systems have an easy to use and contactless way to pay for fares.
---